My December 2018 Retrospective
Key accomplishments
Rapid Breakup Recovery
Got a local WP environment running with a proper git setup
2 new blog posts
Created a list of podcasts to outreach to for a RBR podcast tour
Intercompanion
Recorded 4 podcast interviews
Set up the Intercompanion website
Pingcoin
General
Did my November 2018 retrospective (first monthly retrospective)
Personal
Moved back to Switzerland and moved in with girlfriend
Imported all my accounts into my accounting software
Other
Reading: Finished Start With Why by Simon Sinek (terrible book)
Monthly goal check-in
Writing

I only wrote 2 articles for RBR, but I was happy about their quality. Here I clearly set out to do too much.

4 articles for RBR (failed, 2)
1 article for Jesse MS (failed)
2 articles for Intercompanion (failed)

Financial independence

I only made $161.75 in December, all from RBR. I believe that the problem is that the objectives I set (below) for the month were not unambiguously going to lead to revenue. Going forward I will maintain a yearly target that I will check every month.

$1000 income in December (failed)
Get up to speed with my accounting (failed)
Redesign RBR (success)
Outline a course (success)
Start a podcast tour (failed, only made a list of potential podcasts)
Launch Intercompanion podcast + website (failed, only launched the website)
Validate my positioning (failed)
Move from Drip to Intercom (failed)
Blog post about moving to intercom (failed)
Explore other opportunities (success)
Edit and publish old interviews (failed)
Create a consulting video (failed)

Full of love

Did well here, although not everything is reflected in these objectives.

Stay in touch with Indiehackers (success)
Stay in touch with friends (failed)

Seize every day

Found a gym and have been doing the 5x5 routine 3x a week

Reading

I'm trying to read more and more, but I haven't come up with a workflow that works for me yet. Overall I'm surprised how slow my progress is through any given book.

Come up with and stick with new reading / summarizing workflow (failed)
Read & summarize 4 books (failed, only finished 1)
Summarize past read books (failed)

Explore my subconscious and integrate my shadow

I was feeling very tense around money and sustaining myself in Switzerland. I explored this tension in my mind and I realized that  the worst possible scenario I could imagine would not be to run out of money, but to never actually be able to earn a reasonable amount of money. Speaking with one of my best friends he probed me further and helped me realize I was attaching feelings of being a failure to this scenario. The idea of never being able to make money has been making me feel tense because it makes me feel like a failure in the most profound sense of the word. Once I realized that, a lot of the tension disappeared. Now, I've probably landed my first client for my own product development business.

Daily reparenting exercise (success)
Daily shadow integration exercise (success)
Daily tapping exercise (success)

I am strong (physical strength)
Travel
Time Spent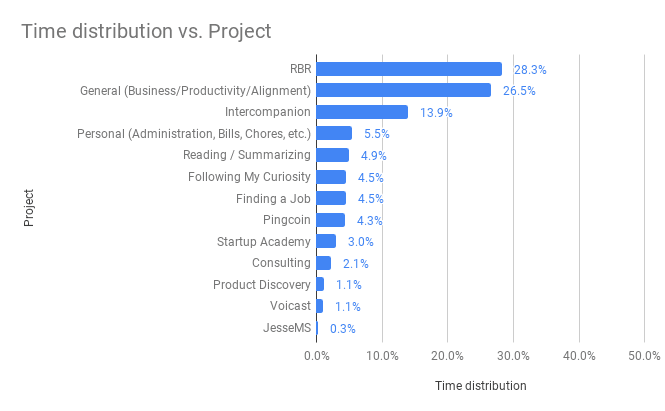 Total: 104 hours (-50.2%)
Wow. I was really surprised to see that I logged 50% less hours than in November (opens in a new tab). November was my most productive month in Chiang Mai and in December I had to move back to Switzerland, get settled in with my girlfriend and I spent considerable time away from my computer during the holidays.
I spent my 28.3% (up from 7%) of my time on RBR (opens in a new tab). I'm happy with this amount as I wanted to focus more on this project in December.
I spent 13.9% (up from 5%) of my time on Intercompanion (opens in a new tab). I'm also happy with this amount as I've decided to focus more on this strategy for establishing a consulting arm.
I'm still a bit unsure how to approach the time tracking results. I've started doing time budgeting (setting a time target per category) on a weekly basis. I will start doing the same on a monthly basis starting in January.
Revenue
Rapid Breakup Recovery
Coaching calls: $47.75
Ebooks sales: $114
Total: $161.75 (-19.5%)
Grand Total
$161.75
Happiness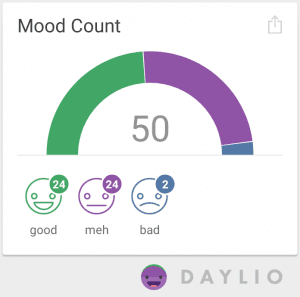 I recorded 48% good moods (+3), 48% meh (+0) and 2% bad (-4). I continue to see an upward trend in my mood, albeit very slightly. I was interested to see how my monthly mood average would change going from being single and financially comfortable in Chiang Mai in November to being in a relationship and financially more strained in Switzerland in December. Even though my material quality of life has decreased, I'm happy my mood has remained stable.
Overall
What went well?
Setting monthly goals
Doing podcast interviews is fun and it's a great way to build relationships with others in your industry.
What did not go well?
Achieving my monthly goal
I set too many goals / objectives for the month
Failed to catch up on my accounting
I set a goal of achieving $1000 in independent revenue in December and I fell quite a bit short of that. I even reviewed this goal almost every day, but I still didn't reach it.
Failed to write and publish 4 articles for RBR
Looking over this retrospective I feel my time was spread over many different projects. Although I enjoy working on different things, I can't help but think that I would accomplish more if I could focus.
Scheduling podcasts was a bit of a pain
What should I stop / not start doing?
Lower my estimates for the amount of tasks I think I can get done in a single month
Always have a podcast going
What should I start / continue doing?
I need to change my approach with regards to setting a monthly goal. Simply setting a goal and reviewing it is not enough for me. In other areas of my life when I set a goal I know more or less how I'm going to get there. In this case, I had no idea. I think revenue is still the right indicator to look at, but perhaps setting a 0-to-$1000 goal (without a clear idea how to get there) is not the right approach. Instead I will be setting a yearly revenue goal in my yearly planning and I'll be checking in with that goal on a monthly basis.