My May 2019 Retrospective
3 things that went well
Spent a lot more time writing
Succeeded in creating a mock api with Google Sheets
Found a new name for my agency
3 things that I need to improve
Do more German
Exercise more (did not reach 2 workout sessions per week on average)
What did I not achieve and why?
I set out to find one client last month, but I didn't find any. To be honest, I didn't spend much time looking. I spent my time coming up with a new name for my agency, writing a lot and learning some new technologies which I'll be needing (like Angular and RxJs and Firebase).
I did manage to get all the documents sorted for the founding of the company. We decided to change the name last minute. The name of the agency will now  be: Pocket Revolutions.
Time distribution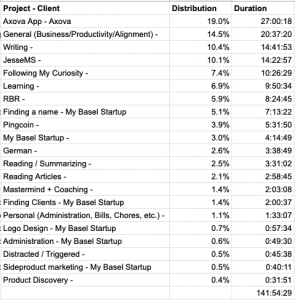 (opens in a new tab)
The time spent on JesseMS was actually also time spent writing. So in total I spent a little over 20% of my time writing this month!
Pocket Revolutions
Changed the name of the agency (previously Studio Click) to Pocket Revolutions. I'm very happy with the new name. Post about the naming process is upcoming.
Rapid Breakup Recovery
Published 1 blog post
Started coding my own CMS for RBR
Revenue
Ebook sales: $38
Total: $38
Pingcoin
5 coin recordings were submitted by users and were added to the app
First blog post about Pingcoin was published here
Monthly Planning
Sign 1 new client
Launch the Pocket Revolutions website
Publish a portfolio piece on Pingcoin