My February 2019 Retrospective
You can find a description of the projects mentioned on my Projects (opens in a new tab) page.
Key achievements
(Pingcoin) Met with a Swiss coin dealer to speak about a possible collaboration. To be continued.
(Learning) Completed the web developer bootcamp Udemy course
(My Basel Agency) Got a verbal go-ahead for my second client for my (still nameless) agency
Other/personal
I've decided I want to reach native level fluency in German. This will help me in running my business here in Basel, Switzerland. This will be reflected in my goals for 2019.
Monthly goals check-in
Writing (5/10)

Started writing longer pieces in my daily journal
No other writing

Financial independence (8/10)

Found two clients that have agreed to first project together for my Basel Agency

Full of love (7/10)

Did okay. Daily meditation, gratitude journaling, EFT

Seize every day (5/10)

No particular achievements here

Reading (6/10)

Finished the Startup Owner's Manual
Finished Emotional Design
Started The Overwhelmed Brain

Explore my subconscious and integrate my shadow (7/10)

Daily journaling and shadow ritual

I am strong (1/10)

I broke my routine here after getting sick. Haven't been to the gym since Feb 7.

Travel (N/A)
Time spent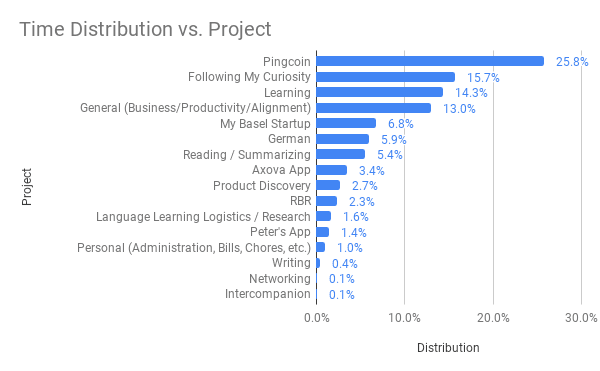 (opens in a new tab)
Total: 167:55 hrs
The plurality of my time was spent on Pingcoin, which had been more or less my plan. I'm working on an onset annotator in javascript, but it's taking me a bit longer than expected.
A considerable amount was spent on the Following my Curiosity category. This is mainly due to the 18 hours I clocked working on the antique map with 3D relief (opens in a new tab). This was not planned, but I felt such strong curiosity and motivation that I felt I had to work on this. I've been trying to make it a policy to trust my subconscious and let it pursue anything that gives me energy. Next step? No idea. I'm really pleased with the end result though.
Revenue
Rapid Breakup Recovery
Ebook sales: $38 Coaching calls: $50 Total: $88 I removed Drip and thereby my 7-day email course. This has impacted my sales as I haven't taken the time to replace it with anything else yet.
Grand total: $88
Overall
What went well
Clocked a lot of hours
Finished the web dev course
Got my second client
What did not go well
I have still not edited the RBR podcast episode and the 4 Intercompanion podcast episodes. I am struggling to balance my desire to focus with keeping existing projects alive. This month I tried to focus on Pingcoin (which you can see by the time that was spent there). However, in order to do so, I neglected other projects. I can't help but wonder if I'm approaching this correctly
I still haven't laid out my goals for 2019.
I'm behind on my personal accounting
What can I do differently
Do my accounting at the beginning of the month